Privacy-centric mobile application adds secure ID verification and digital tokens as proof of lab testing status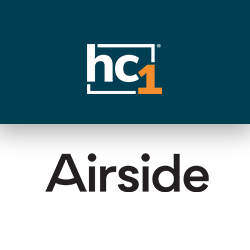 Bioinformatics leader hc1 and digital identity innovator Airside have partnered to deliver an integrated mobile CV19 Digital ID to hc1 Workforce Advisor™, a cloud-based solution that enables employers to systematically implement and track guidelines that support the ongoing health and safety of employees returning to the workplace.
COVID-19 presents unique challenges to employers as they grapple with how to safely reopen operations. Some of the best ways to keep employees safe include routine lab testing, physical infrastructure reconfiguration, workplace social distancing, and remaining vigilant for symptoms of, and potential exposure to, COVID-19. Faced with an urgent need to quickly implement and enforce a multitude of safety measures, employers are dealing with a massive amount of confusing, and often conflicting, guidance and an overwhelming amount of information to manage. Adding to these unprecedented return to work management challenges, employers must meet data security, privacy, and compliance requirements.
That is why hc1, an expert at securely transforming real-time lab testing data into personalized healthcare insights, and Airside, whose digital identity products are used by more than 8 million people, have come together to deliver a privacy-centric mobile solution that enables individual employees to share their lab testing status with their employer in a secure manner.
"hc1 Workforce Advisor is the only return to work solution for employers that measures and reports the risk of infection at the workplace and in surrounding communities where employees reside," said Brad Bostic, hc1 CEO. "By partnering with Airside we are extending the Workforce Advisor solution with a world-class mobile application that can increase safety via a Digital ID that employees can trust to securely share testing status when entering the workplace."
hc1 Workforce Advisor's CV19 Command Center enables employers to effectively implement and monitor systematic lab testing and symptom checking guidelines for employees consistent with national and local best practices. Using a secure, HIPAA compliant process, lab test results are organized and trends are displayed in easy-to-use dashboards sorted by employee and workplace location. With the integrated mobile application from Airside, employees gain an easy way to do their part in keeping the workplace safe by confirming lab testing guidelines are followed through a secure digital ID that can be scanned when entering any work location.
"Combining hc1's award-winning platform with our secure mobile application allows for large scale, streamlined, and, most importantly, safe operations when sensitive information sharing is necessary," said Hans Miller, Founder and CEO of Airside Mobile. "Privacy is equally critical to employees and employers. We empower employees by making sure they control their personal information with transparent consent protocols on their encrypted device. Employers ensure a duty-of-care knowing that employee information is never stored in a central database, and protect against fraud with our easy-to-integrate tool to manage only the necessary information needed for a variety of workplace experiences."
For more information about hc1 Workforce Advisor for CV19, its unique Command Center, and the integrated Airside Digital ID application for employers, visit https://www.hc1.com/workforce-advisor/.
About hc1
Founded to improve lives with high-value care, hc1 has emerged as the leader in bioinformatics for precision testing and prescribing. The cloud-based hc1 High-Value Care Platform® organizes volumes of live data, including lab results, genomics, and medications, to deliver solutions that ensure that the right patient gets the right test and the right prescription. Today, the hc1 Platform powers solutions that optimize diagnostic testing and prescribing for millions of patients nationally. To learn more about hc1's proven approach to personalizing care while eliminating waste for thousands of health systems, diagnostic laboratories, and health plans, visit https://www.hc1.com and follow us on Twitter, Facebook, and LinkedIn.
About Airside
Airside builds innovative digital identity products for businesses and consumers alike with privacy-by-design and leading-edge security as its guiding principles. Airside's first product, Mobile Passport, has been downloaded by more than 8 million people and is counted on by more than 30 U.S. airports and cruise ports to reduce shared touchpoints, long lines, and crowding. Mobile Passport is sponsored by the Airports Council International (ACI-NA), and Airlines for America. Airside is headquartered in Arlington, Virginia. Learn more at: https://airsidemobile.com or follow us on Twitter, Facebook, Instagram, and LinkedIn.
Contact
Airside Corporate Communications
Email: [email protected]
Telephone: (800) 210-6838 x 6